About Us
Nina Margiottiello
Personal Real Estate Corporation
Nina Margiottiello grew up in a family of industry leaders who focused their expertise on architecture, mortgage lending and building projects, so it's no surprise that Nina's career in real estate unfolded so naturally. Her attention to detail & ability to connect with people is the reason she is a recognized Master Medallion Club Member, which honours the top 5% of Realtors in Greater Vancouver for over a decade. Nina is also a Diamond Club Member and Top 25 at Engel & Völkers Vancouver in 2021.
Collaborating with long-time business partner and fellow Diamond Club status Alex Wong, as well as Managing Broker, Andrew Carros, gives this team "Living Collective" the opportunity to offer their clients a combined 50 plus year experience and knowledge that is simply like no other. They have an extensive knowledge of all forms of residential real estate which begun in their own personal experiences of owning condos, detached homes, recreational properties, short term rentals, as well as building laneways and renovating homes. They have you covered in every aspect of property ownership. Living Collective also has Project Marketing under their belt, marketing presales from the ground up.
Outside of real estate & design, Nina, her husband, & her daughter love spending time together travelling and experiencing new cities, exploring nature in and around their recreational property in Whistler and cooking up long table dinners for friends & family. Passionate about classic cars and motorbikes Nina is often seen cruising the beautiful Sea to Sky corridor. Half Italian and half Mexican she speaks both Italian and Spanish.
Alex Wong
Alex Wong has spent the last 16 years specializing in the Vancouver West Side, Downtown, Richmond, and Burnaby markets. He was raised in a family of Realtors, and and spent years developing web solutions geared towards the Real Estate Industry. Alex's background offers a wide breadth of knowledge and an impeccable level of service that continues to earn him the respect of his appreciative clients. Fluent in Cantonese and Mandarin Chinese, Alex helps bridge the gap between his local and International clients.
From day one, Alex's objective has always been to do what is best for his clients, with total and unbiased honesty and integrity. His positive and straightforward approach attracts clients of the same values, and he describes them as "the nicest people in the world". He continues to build on this reputation with his superior negotiating skills, and proven marketing expertise.
In his personal life, Alex is passionate about food, family, and friends. He is always surrounded by one of these, and there is usually a lot of laughing going on. He works hard at balancing his time between work, friends, wife, two daughers and dog. Often times, he mixes them together for the best results.
Andrew Carros
Personal Real Estate Corporation
Born and raised in Vancouver, Andrew Carros has since gone on to become one of the city's premier Realtors®, whose opinion and experience is held in as high a regard by his clients as it is by his fellow Realtors®.

Licensed since 2003, Andrew joined forces with his father, Greg, to create the Carros Group. In aligning themselves with Engel and Völkers they created one of Vancouver's most dynamic Real Estate offices in the heart of Yaletown. Andrew is not only an award winning Sales Advisor but also the Associate Broker for the Engel & Völkers Vancouver office. This further enhances an already impressive resume as well as his ability to best represent his clients.

Andrew's forte is in his inherent ability to instil confidence in both his clients and colleagues. He has a market knowledge that is unparalleled in the city and in combining this with a distinct ability to read and assess each situation on it's own merit, Andrew can offer a seamless Real Estate expertise from beginning to end.

On a personal level, Andrew is married with two beautiful children ( plus Daisy the Doodle) Andrew loves spending time with his family on the sports fields and volunteering whenever possible in the community, currently as the Vice President of Trout Lake Little League.
Darcy Doyle Mortgage Professional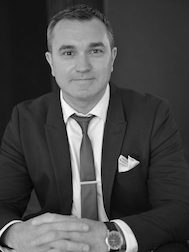 A Vancouver-based Mortgage Professional and Founder of The Mortgage Professionals.Darcy has been financing,refinancing and renewing mortgages, consolidating debt, and investing and managing growth in real estate for his clients since 2004. He is proudly ranked among the Top 10% of all Mortgage Professionals across Canada.
Providing top-notch customer service to his clients while also negotiating the very best available mortgage product and rate on your behalf will always remain his top priority. Darcy understands the importance of addressing all of your questions and concerns efficiently and with keen attention to detail, regardless of their complexity.
Whether you're buying your very first home, moving to a new property, purchasing a vacation or investment property, or renewing or refinancing an existing mortgage, he's there to advise and guide you through every step.His promise is to provide educated financial advice and sound mortgage strategies to help you get the most out of your hard-earned money.
Thanks to establishing strong lender relationships over the years and being backed by Canada's number one mortgage brokerage network – Dominion Lending Centres – his team is able to say 'yes' to, and offer the best available rates for, more mortgage deals pertaining to all borrower types.